What would it feel like to help clients divorce peacefully, privately, and with dignity?  Wouldn't it be great to consistently work with professionals whom you know, trust, like, and respect?  Learn how to offer Collaborative services and get involved in your Collaborative Law community in this highly engaging Virtual Introductory Interdisciplinary Collaborative Family Law training.
Register here:  https://mycollaborativeteam.com/webinars/ 
Introductory Interdisciplinary Collaborative Family Law Training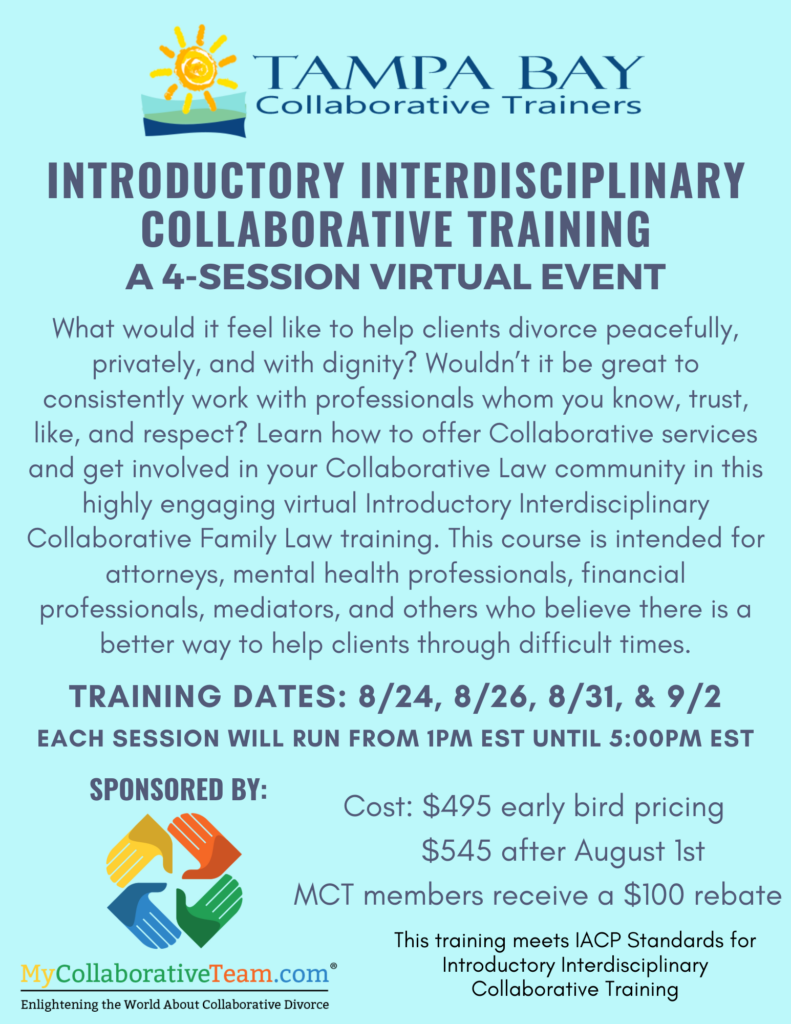 This course is intended for lawyers, mental health professionals, financial professionals, mediators, and others who believe there is a better way to help clients through difficult times.  The course will mainly focus on the One Coach/Neutral Facilitator Model of Collaborative Practice.  This training is not jurisdiction specific, and professionals from all locales are welcome to attend.
Training Dates:  August 24, August 26, August 31, and September 2
Training Times:  1:00pm – 5:00 pm Eastern Time/10:00am – 2:00pm Pacific Time each day
https://familydiplomacy.com/wp-content/uploads/2017/01/15825983_10155411310232119_5756282356853681914_n.jpg
720
960
Adam
https://familydiplomacy.com/wp-content/uploads/2016/12/Family-Diplomacy-Logo.jpg
Adam
2021-07-13 08:23:27
2021-07-13 08:23:27
Virtual Introductory Collaborative Law Training August 2021